We don't have to tell you that smartphones have gotten bigger over the years. For a company like Corning that has caused a problem – the larger the screen diagonal, the more pressure on the glass when you inevitably stumble upon your phone and drop it on the floor.
This means it has to keep improving its toughened glass construction to keep pace with changes in smartphone design. Two years ago, it introduced the Victus, then an additional version came out in 2021 and now it's time for the sequel, Gorilla Glass Victus 2.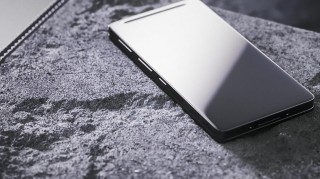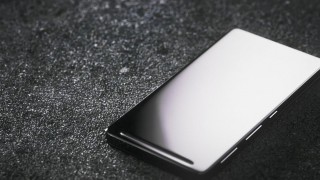 Concrete (left) is much rougher than asphalt (right), which means a higher risk of shattering glass
A smooth floor (which may be carpeted) in your home poses little danger to a modern smartphone. However, the rough surfaces outside are another matter. Asphalt can leave the screen pretty much scratched if the glass isn't strong enough, concrete is even worse.
That was Corning's goal with this generation of GG Victus – concrete. It's a mixture of cement, sand, and rocks and one of those rocks can really ruin your day if you drop your phone. Concrete is stronger than asphalt, the company uses 80-grit sandpaper to roughen concrete compared to 180-grit for asphalt. The mixture of materials of different sizes creates an uneven surface, so a slightly protruding piece of gravel can concentrate all the impact force in one place. The smooth floor tiles you may have at home spread the force, which really reduces the chance of shattering glass.
Using lab machines to run tests, Corning developed the Victus 2, which can survive a one-meter (hip-height) fall onto concrete. If you are walking on asphalt, the glass can withstand falls from 2 meters (head height).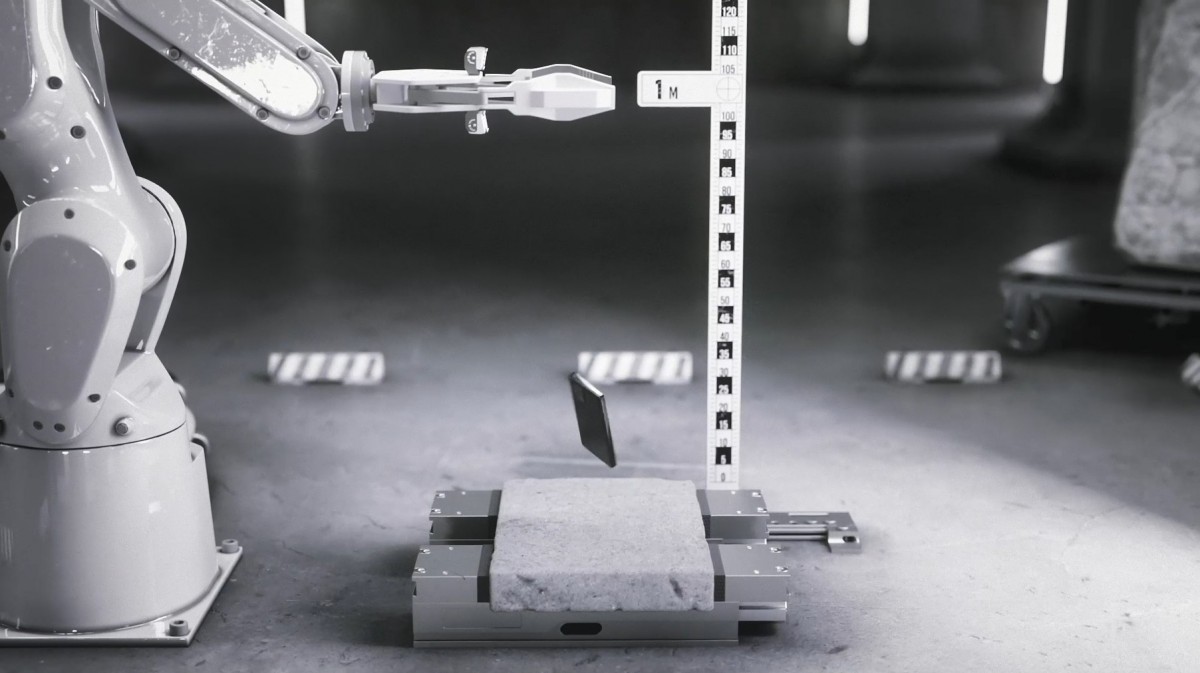 The use of robots means that the tests are accurate and easy to repeat
Like we said, big phones are a problem. Not just because of the larger screen diagonal, the phones are also getting heavier — today's average smartphone is 10% larger and 15% heavier than one four years ago, according to Corning. More weight means more force when the phone hits the ground and this exacerbates the problem.
It is not enough to survive bumps without shattering, but the glass must also resist scratches. These are two separate problems, though sometimes they have the same cause — dropping the phone on a rough surface. This is not always the case, pockets and desks also carry the risk of scratches. Also, with the "glass sandwich" design prevalent, Gorilla Glass is often tasked with protecting not only the screen on the front but also the back of the phone.
With Victus Corning believes it has found a good balance between drop performance and scratch resistance. With the Victus 2, drop performance on rough surfaces has been maintained while maintaining scratch resistance.
Smartphones with Gorilla Glass Victus 2 are expected to hit the market in the next few months. Any one? Corning isn't naming any names at this time, but it does maintain an extension Device list Currently using GG – It is likely that complement phones using Victus (+) will upgrade to version 2.
note. We spoke with Scott Forrester, division vice president and business manager, Glass and Operations Council at Corning, and asked about the challenges of building toughened glass for smartphones. More on that in a separate article.